One of the main attractions for staying at West Ord is it's idyllic setting on the banks of the River Tweed. Walking is on your doorstep, everything from an evening stroll to the river, or choose a more ambitious 5 mile loop, and enjoy wonderful wildlife as you go.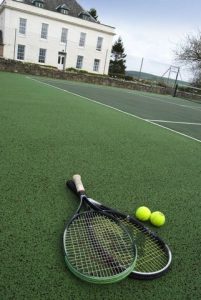 Tennis
We have an all weather tennis court.
So look out your racquets and balls, and if you don't have any we can supply some to get you started!
No charge for using the court!
Fishing Information for West Ord Beat
We have about a mile of single bank salmon and sea trout fishing in tidal water.
The water can all be waded, we don't provide a boat or a ghillie, but will point you in the right direction, as far as boundaries etc are concerned.
The season is from 1st February to 30th November and there is no fishing on Sundays.
On or before 14th February and on or after 15th September it is fly only.
All salmon must be returned up to 30th June because of spring salmon conservation rules.
All anglers will be asked to complete a Gyrodactylus declaration before fishing.
This states that either you have not used your fishing tackle abroad in the last three months, or you have done so and had it properly sterilised.
If neither of the above then tackle must be sterilised before fishing begins.
All regulations can be found on the Fish Tweed web site www.fishtweed.co.uk
A charge of £20.00 for a full day and £10.00 for half a day will be charged for Salmon and Sea Trout fishing.
There is no charge if fishing for brown trout.
Payment will be taken at time of fishing.
Bob Smith Fly Fishing
Bob has worked with the famous Hardy 's of Alnwick and is now running his own business as a full time professional fly fishing instructor, you can book him to give you a lesson at West Ord, or discuss fishing at other venues which Bob can give you advice about. He can provide fishing equipment  and advice on buying it.
Mob:07984 810791 Home: 01670 514086
Email: info@bobsmithflyfishing.co.uk
A West Ord Walk
This can be a circular walk and is approximately 4 miles
Set off from your cottage and follow the riverside footpath up river towards Chain Bridge, just across the river from West Ord is our nearest stately home Paxton House.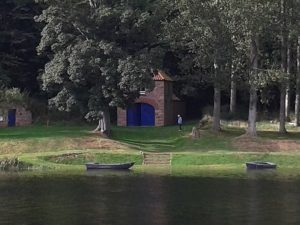 You will notice its boat house and jetty as you walk up river from the farm to Chain Bridge. It also is a 5 minute drive from the farm and well worth a visit. The house  is beautifully presented and displays all the original Chippendale furniture specially commissioned for it when it was built and a stunning collection of paintings from the National Galleries of Scotland.
The Stables Tearoom is not to be missed for tasty refreshments after some energetic exploring of the grounds and woodland walks.
Keep an eye out for Paxton House events on both their own site and Facebook
Follow the path to the bridge ( you come through a gate and walk past the Boat House which brings you out at the end of the bridge) from there, follow the road up the hill towards Chain Bridge Honey Farm, this is a good half way point and you can enjoy learning about honey production, and all the bye products (honey, candles, creams and potions all available to buy).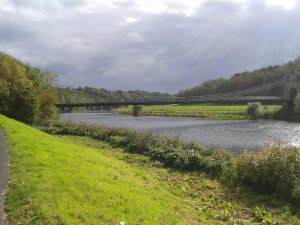 There is a fabulous old London double decker red bus, which serves teas, coffees and cakes which are to die for, so after being thoroughly refreshed hit the road again for the second half of your walk.
Follow the road up the hill and meet the junction with the Horncliffe road, turn left and walk back towards Berwick for about half a mile before turning left on to a side road (just before a small bridge on the main road). This is the back road which leads to the farm and cottages, you will cross two cattle grids before meeting up with the River Tweed again. Stay on the road and cross a final cattle grid before you come back to the farm.